Factory Intership Program
National United University is the only university Miaoli country which is closest to TongLuo and Zhunan science park. The department of Mechanical Engineering has lunched the factory internship program with strong cooperation with companies and factories based in these two science parks. The 4th year students are sent to factories for enhancing their knowledge learning at school and applying in solving practice problem in the mechanical engineering industry. The time of factory internship program is one year. After complete the internship program, the students have also a chance to continue working at the same company after graduating.
The Purpose
***Prevent the distance between school and industry demand.
***Help students understand their abilities and interest.
***Combination of theory and practical experience.
***Cultivation of professional talents.
***Strengthening industry-university cooperation.
The Process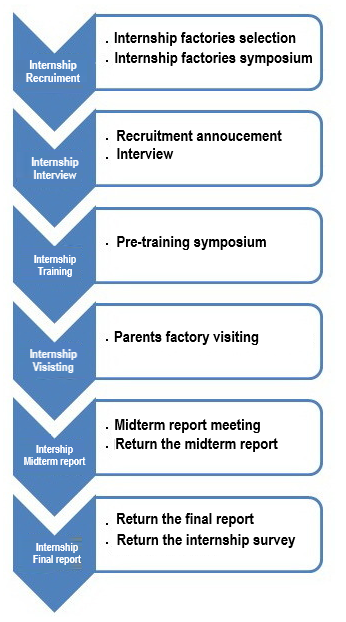 The Statistic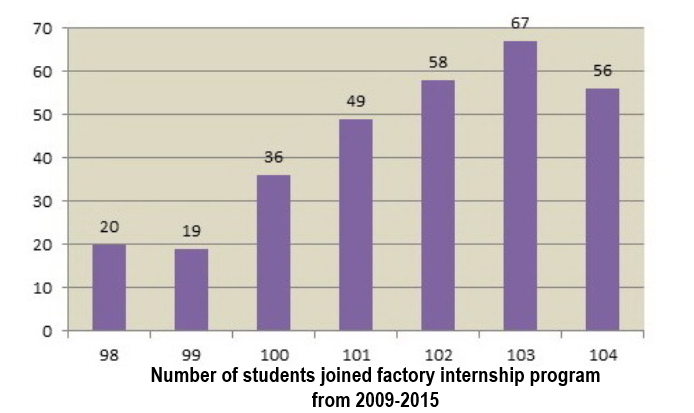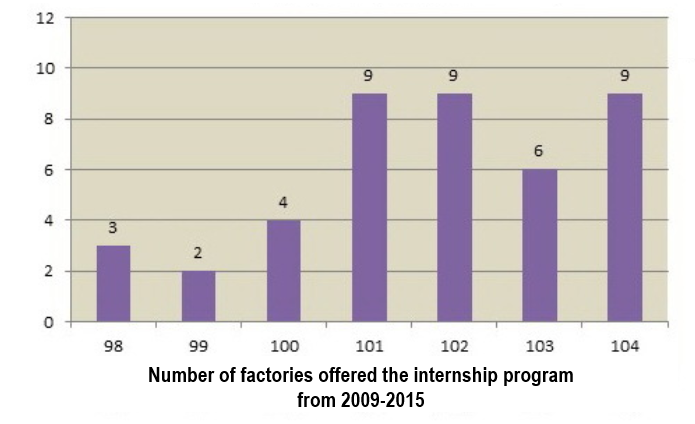 The Companies/Factories
| | | | |
| --- | --- | --- | --- |
| Accuvision Technology Inc. | National Chung-Shan Institute of Science and Technology | Gallant Precision Machining Co., Ltd | Pacific Hospital Supply Co., Ltd |
| Dawning Leading Technology Inc. | Yeong Luch Enterprise Co., Ltd | PALMARY Machinery Co., Ltd | Twin Tech Engineering Co., Ltd |
| Chief SI Co., Ltd | Gifu Enterprise Co., Ltd | Cosen Mechatronics Co., Ltd | CHung-Yi Mold Co., Ltd |
| Anderson Group | Pinnacle Machine Tool Co., Ltd | Defender Machine Protection System | King Yuan Electronics Co., Ltd |
| United Microelectronics Corporation (UMC) | HIWIN Technologies Corporation. | | |